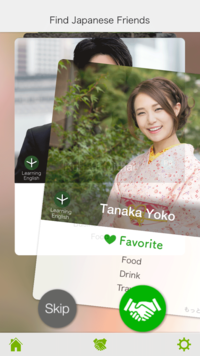 Find your friends
When you tap "Find Japanese friends" and "Find friends learning Japanese",
the screen you can find friends with swipe gesture will be shown.
At the screen, swipe right is for "HandShake", swipe left is for "Skip".
The other user doesn't know your action(HandShake or Skip).
But if you use "Super HandShake" orange button on the middle, your handshake offer will be noticed to the user.
It makes easy to match!

※If your device's "Notification Setting" is OFF, you can't get notice when your friend text you. So please set ON with following instruction.
 iOS: Launch "Settings" App -> "Notifications" -> "Mondo" -> Set "Allow Notifications" ON
 Android: Launch "Settings" App -> "Application" -> "Mondo" -> Set "Show notifications" ON
※Swipe limit is 30 times. It will be cleared every 12 hours.
※If you don't want to show your profile on that screen, please set off "Setting"->"Account"->"Show in Ranking & HandShake".